Let us custom build your dream boat!






Pedigree Cats, Inc.


Tri-Star 54' Trimaran
TRI-STAR 54 is a luxurious sailing yacht for cruising or chartering. TRI-STAR 54 evolved from the great sailing and proven TRI-STAR 49 and 50 family of trimarans. First designed for charter, we started with a flared hull for the spaciousness to have a large comfortable lounge area and added a large aft cabin that may be two double staterooms or one large stateroom. The galley is forward and spacious, fully equipped to serve all. The lounge area layout may be similar to TRI-STAR 49. TRI-STAR 54 is a spacious, comfortable, seaworthy and a fast level sailing luxurious trimaran that will be a joy to own and sail.

Tri-Star 54' Trimaran by Ed Horstman

Length Overall

53'9"

16.45m

Beam Overall

28'2"

8.5m

Draft

2'10"

.86m

Working Sail Area

1638 sq ft

154.5 sq m

Displacement

26,000 lbs

11,818 kg

Power

100 hp diesels
Layouts
You can customize your new Trimaran with the layout you design. If you would like to move the kitchen, or make the living room larger, it can be done. The design would need to fit within the parameters of the hull and structural bulkheads.
Six staterooms with luxurious salon and galley area.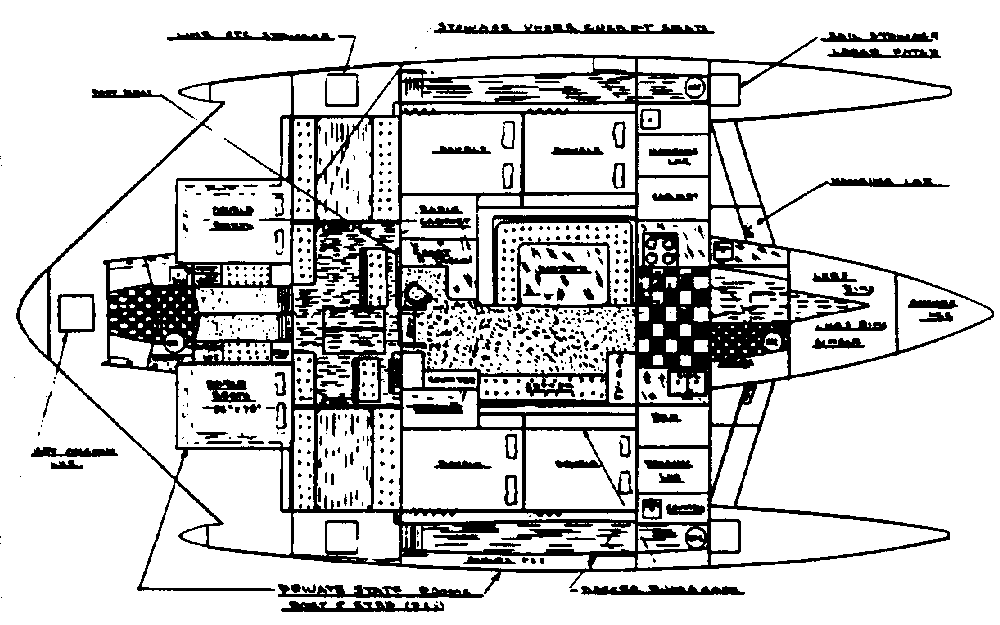 For More Information, email us at Info@PedigreeCats.Com

Pedigree Cats, Inc.
1835 Ocean Avenue Phone (360)942-2810
Raymond, WA 98577 | Fax (360)942-2936

This site is maintained by KC Computers (360) 942-2810