Let us custom build
your dream boat!


Pedigree Cats, Inc.

Bloomfield 75 Sail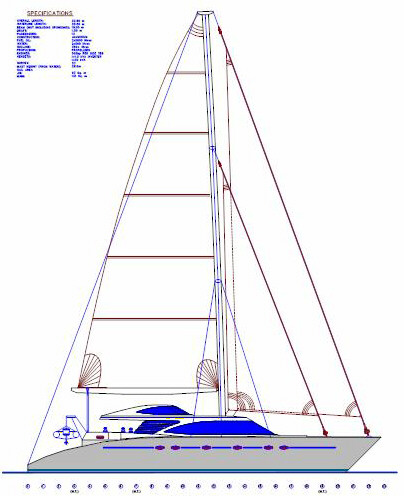 Click here for printable version

A Cat designed for us personally...

The Start....



We will use this cat as a basic plan and modify it to give us what we want in looks and performance. The designer has agreed to work with what our concept artist comes up with, but we will work with all the structural needs of the designer as well as the weight and balance required to make this cat perform. Her planned empty weight will be 40,000 lbs and fully loaded (pet rock) about 77,000 lbs. We are no different than the rest, always put more on board than we tell the designer we will. So, we won't be the fastest rig out their, but we will have good performance and will not race her, unless you try to pass us. She will be painted in silvers, darker on the side lower areas and lighter on the top side. The windows will all be glass, solar reflective bronze, dual pane insulated sliders with screens. Cooled by chilled water and heated by hot water. A 1800 gpd water maker, one 12 kw gen. set is planned at this point.


Specifications

Length Overall

75'

22.87m

Beam Overall

33'


10m

Main Sail Area
Jib Sail Area



131 sq. m
93 sq. m


Power

2 x 315 hp (planned)




Our planned cruise speed will be 15 mph, using twin 315 yanmar diesels pushing 3-blade full fethering props from PYI, . The rudders will have the lower section made to break away before any real damage would be transferred to the rest of the steering system.
Since we plan this to be a motor sailor, full feathering props are a must. The sails will all be roller furling, the main has not had the furling chosen yet nor the head sails, but the main winch will be self tailing and electric.

---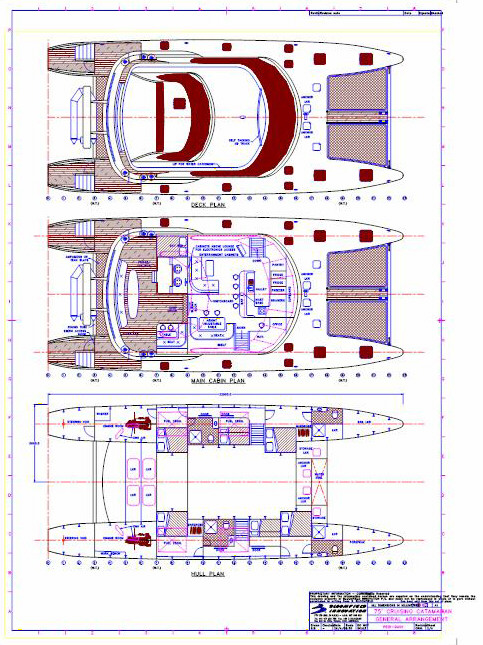 click for larger picture
These floor plans above will give you and idea of some of the ways this cats interior could accommodate, ours will be a bit different to work for us and our life style. A large kitchen is planned, taking up about 25% of the main salon with seating at the bar around the cooking area. Mostly drawers and appliance garages very handy for the things used almost daily, but you want out of sight. This is another reason to pick a designer that is not only reputable in multihulls, but will work with you on what you would like. We have had some very talented concept artists, out there but some believe that what they draw can not be improved upon and will not listen to what you like or want. This is why we chose Sasa of design industria from Serbia, he is very concerned he gets us exactly what we want, inside and out. This take a bit of time, several sketches with input from us, tweaking the response of what looks great and things that may need to be changed a bit.. The final perspective, in color, in the water will be something to see.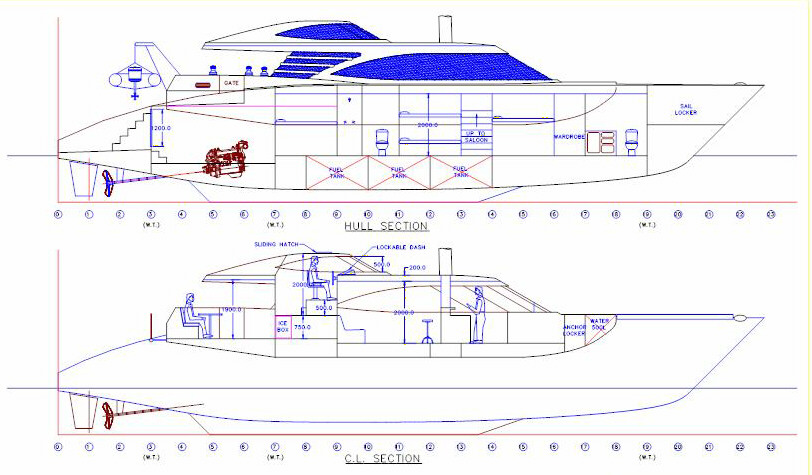 She will have at least 1 Lewmar bow thruster 14.7 hp with over 500 lbs of thrust, possibly 2., one on each hull. The engine controls will be electric, one up top and one on each side on the aft deck also with bow thruster toggles. This allows one or two people to dock her, plus a lot of safety when approaching a refueling dock that is crowded and the wind is blowing a bit. We have also went down between marina slips with full control comfortably (other cats) This cat will have a minimum range of 1,000 at top speed, tank age accordingly, slowed to 10 or 12 mph or so, 3,000 miles and more. Some times you just want to pass the fuel station that charge an arm and leg for fuel, can't blame him, he just waited 6 month delivery to his little island and really doesn't want to part with it now that he has it.

We will have the mini keel shown here, but not the dingy davit as shown, we plan to have a ramp on the port hull steps to winch it up when we need to. We have found that some times we have had need to launch fast and maybe while underway. Our planned system is easy and will allow to motor up and while in gear, go forward, hook on the strap and use the hand control to activate the electric windlass to pull her up. The shore boat is a 16' Wahoo, chosen because of teh dual console, plus if you buy a Boston Whaler, it has to come with a Mercury. The Wahoo has a 4 stroke 60 hp engine, GPS, 2 million power worth of Go-lites that are remote control, ELT, VHR, sounder and lots of goodies to have fun all day.. We use one a lot, leaving the protected anchorage and exploring 20 -50 mile up the coasts or inland rivers.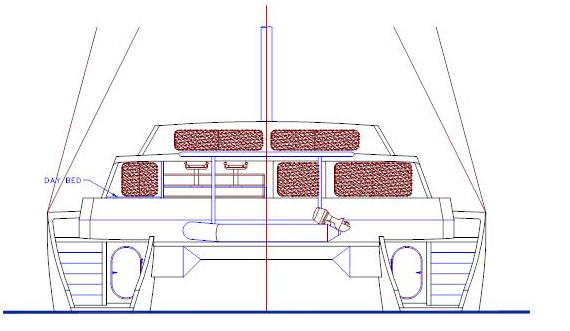 click for larger picture
I really like the wide hulls here and inside and the ease of getting into these large engine and machinery rooms. I don't know yet, if we'll have the bed boxes shown here under the bridge deck, maybe a 45 deg. angle up for early entry steps down into the hulls, we've been building quite a few this way and they work well, we'll see.

Even though we have be planning this cat for years, we are just now spending time really putting to paper what we want and where. We are not die hard sailors, racers or going around the world non-stop. We don't plan storm sailing, but have been known to get caught in them.

This cat may not please everyone in the way she'll look inside and out (won't be white with a blue boot stripe either) But it will be what we want and what we have been building for 34 years, clients get exactly what they want, inside and out.

Check back once in a while and you start seeing what the artist is working up for the exterior looks. We'll stay with it till its just right and in-between time, the designer is working with the mast builder in California, it has to be as it has to be and where it must be and must be structurally supported. He is also working on carbon fiber designed rudders, which we plan to have at least the post made here on the west coast.

For More Information, email us at Info@PedigreeCats.Com




Pedigree Cats, Inc.
1835 Ocean Avenue

Phone (360) 942-2810
Raymond, WA 98577 | Fax (360) 942-2936


This site is maintained by KC Computers (360) 942-2810